Our $1000 DIY bathroom remodel is complete! This was our first major home remodeling project in which we replaced a floor, a vanity, a toilet, and sliding glass shower doors (plus lots of little accessories).
Our upstairs bathroom "before" featured:
annoying vanity corner to bang your elbow on while using the toilet
glass shower door frame to bang your head on
storage cabinet that was both huge and too small to really store anything in
wobbly toilet that struggled to flush even the tiniest of loads
gold… everything
We ripped it all out and replaced everything with fixtures bought right off the shelf at Home Depot.  Our budget was $1000, and almost half of it went into the toilet and the vanity.  The other half of the budget went into <$100 stuff that added up, like grout paint, tiling supplies, a faucet, a mirror, and a new fan motor.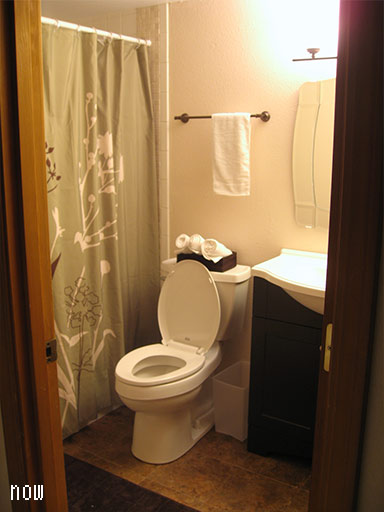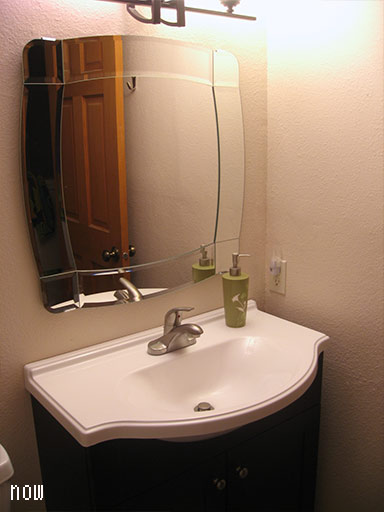 Our $1000 DIY Bathroom Remodel Budget
Demolition: free!
Disposal fees for old sink and potty: $20
American Standard Champion toilet: $230 (Update: 3 years later, this toilet is still a beast. I bought a second one for another bathroom.)
St. Paul vanity and sink combo: $200  (Update: 3 years later it still looks great.)
Moen Banbury dual shower head: $50 (Update: 3 years later we still love it, 100% recommend)
Flooring: about $70 worth of tiles, glue, tools, and related supplies
Delta single-handle faucet: $45
Plush rug: $30
IKEA Mirror: $30
Wall paint: "free" I mixed several color remnants I had in the garage into some white KILZ primer
Lighting fixture: $90
Shower curtain: Already owned (maybe $20 originally?)
Wall tiles: about $60 worth of tiles and grout supplies
Grout paint: $20
Caulk and caulk tools: about $10
Towel bar: $30
Towel hooks: $6
Trash bin: $10
Shower rod: $20
Can of wall texture spray: $12
Floor trim and miter box:  $40
Project total: About $993
The little things (especially tools!) add up, but considering this project began with a budget of $1000 I'd say we did pretty well!   We did all the work ourselves, relying heavily on the experience and insane work ethic of my dad.  Still, this project took several solid days of work, sometimes with all three of us contributing.  Many "loose ends" didn't get tied up until weeks later.
Lessons Learned
Our first DIY bathroom remodel was nothing if not educational. Here's some "pro" tips straight from the battlefield:
You really will need ALL of your tools.  Seriously, just bring every last screwdriver and wrench upstairs and dump it all in the hall before beginning.  Our entire upstairs became a shin-high flood of tools.
You will go back to the hardware store daily, sometimes twice daily, to keep the project moving along.
Demolition is 10% of the job…no, 5%.  Don't get optimistic just because the room's gutted.  You're still watching the ads before the trailers even begin!
Removing a shower door framework does bad things to tile!
It's impossible to match tile. Once tile has fallen off the wall (and shattered), you'll never find a match.  Don't even waste 3 days trying like we did.
Just give up trying to clean grout to original condition and paint it instead – looks great!  (Update: 3 years later, it looks as good as it did the day we painted it.)
Being without your only functional shower for two weeks sucks, even when you are already accustomed to showering at the gym 5 days a week.  We discovered our master shower was leaking and stopped using it, but we also couldn't shower in this new one until it was fully sealed, which we couldn't do until we repaired the grout and painted the existing grout.  I love the gym, but going every single day just so I could use the shower was brutal.
Disposing of your garbage is a real challenge. The garbage pickup won't take it and the city disposal event wanted $10 a pop for the toilet and sink.  We had to haul it all to the dump ourselves.
Dad is a floor-gluing, toilet-installing, tile-buttering, plumbing-fixing GENIUS MACHINE.  Couldn't have done it without him!!