This is the fourth post in a series about our front-yard water line emergency that occupied much of the Thanksgiving holiday week.
Our plumber returned today with digging and trenching tools.  The yard dig is on!
Here's what digging for a new water line looks like: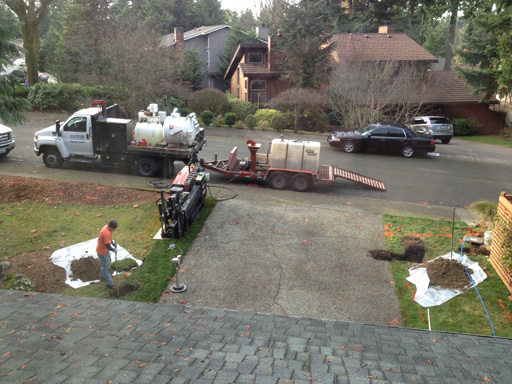 I'm quite satisfied with my choice of plumber –  Top Gun Plumbing located in Bothell, WA is great. I hope people in the Puget Sound area trying to find a good plumber find this post and give them a call.
Here's why I chose Top Gun:
Quick response times over the phone – even if I had to wait for a call back, I never waited more than a few minute.  Also, I was able to get an in person estimate at 9am the next day after calling the previous afternoon
The over-phone-estimate was accurate
They are minimizing the mess that is inevitable when digging trenches in the yard by using tarps and boards to protect unaffected parts of the lawn
They came in $4200 under my highest bidder for the job (YOW!)
They got a permit for the work and the job will be inspected when complete – of the three plumbers I contacted, they were the only team to mention permits
They had the utilities marked – again, the only plumber to mention utility markings
The usual goodies: licenses, bonds, insurances, all the stuff to show they're pros and not just some random guys with a painted truck
Top Gun is one of my favorite movie soundtracks OF ALL TIME (yeah, I grew up in the 80s… :)  )
When choosing a contractor for a big job, always consider the whole package:
Are they timely with responses?
Are they on time to the job site?
Do numbers they quote seem reasonable?
Can you actually read what they write on your estimate?  You don't want ambiguities here.
Do they explain stuff?  Ask 1st grader questions – if you're shelling out thousands of dollars, you get to ask 1st grader questions.
If your project requires digging, do they seem eager to "play by the rules" with permits and utility marks?  Waiting on a permit and utility marks did not add wait time to the job, and Top Gun coordinated everything. All I had to do was pay – perfect.
If you're not sure what's a reasonable cost, get more estimates and search for your job on Google.  Doing this saved me $4200, do not skip this step!
It takes time to get multiple estimates and explain your problem repeatedly, and I am just as guilty of skipping the "get multiple estimates" step, but on these bigger jobs the grind pays off:  you will get a wide range of professionalism and costs, even among pros with high marks on Yelp and Angie's List.