Don't miss Part 1 and Part 2 of our week-long West Coast road trip!
Day 6: July 5th, 2012
San Francisco to Crescent City, CA
356 miles
Happy Birthday, Jim! Now load the car, please. :D
Two and a half days in San Francisco was just the right amount for us. Feeling a bit of city fatigue and crowd fatigue, we hit the road early in hopes of beating everyone else. That backfired pretty wildly, and we spent the first 90 minutes of the day trapped in traffic with a million commuters.
From SF we headed west for the coast on 101. Today was the biggest driving day of our entire trip. The 101 route was significantly more exciting than I-5 and I'm glad we gave ourselves a full three days of driving to enjoy everything. Northern California's gorgeous hills and trees were the most memorable parts of our journey to Crescent City.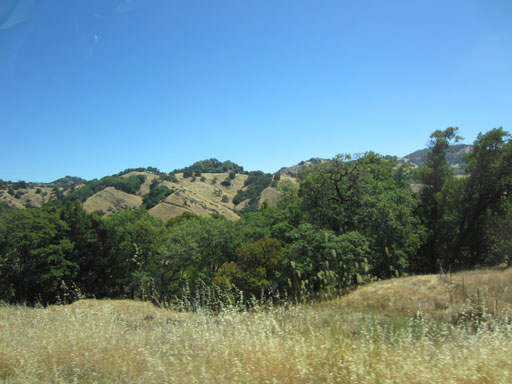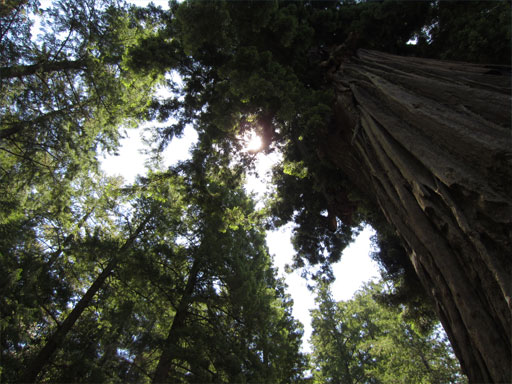 There are shops along 101 selling fantastic wood carvings.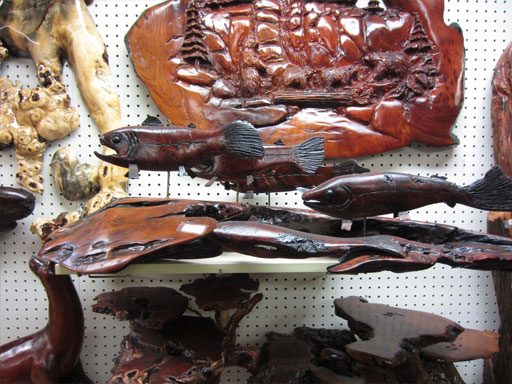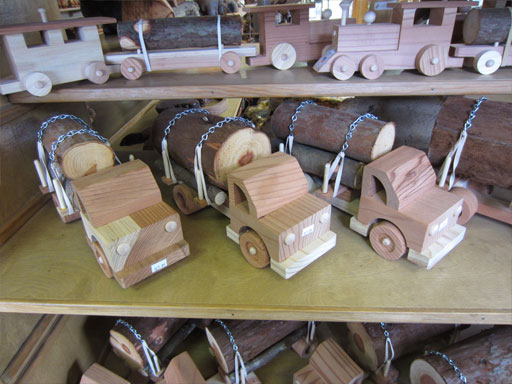 Alas, I have neither the space nor the funds for awesome wood carvings, so photos will have to suffice. :)
Crescent Beach Motel was in every way opposite our previous accommodations. I just love an unpretentious hotel. This one was rustic, cozy, and right on the beach. Walk across a bit of grass and climb down some rocks = you're on the beach.
Just outside our room:
We spent the evening drawing in the sand and hanging out with wooden dolphins.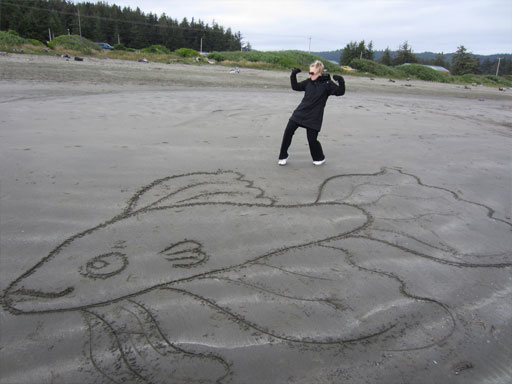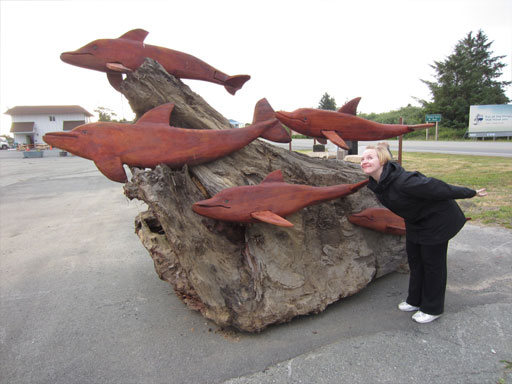 We slept with the slider open and the wooshing tide lulled us to sleep. Totally awesome.
Day 7: July 6th, 2012
Crescent City, CA to Newport, OR
231 miles
Okay, one more thing before leaving Crescent City: this amazing lighthouse that's only accessible on foot some parts of the year. Being a lighthouse keeper sounds like the best job ever. It's quiet, easy work and I bet you don't get too many visitors. I'd do it, as long as there's broadband of course. ;)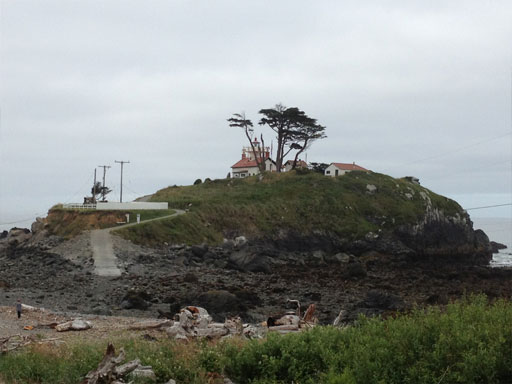 Once on the road we spotted a sign for the Rowdy Creek Hatchery. Fish had basically become the theme of the trip by this point, with us stopping to look at fish ladders and hug fish carvings. Visiting a hatchery would complete the fish trinity.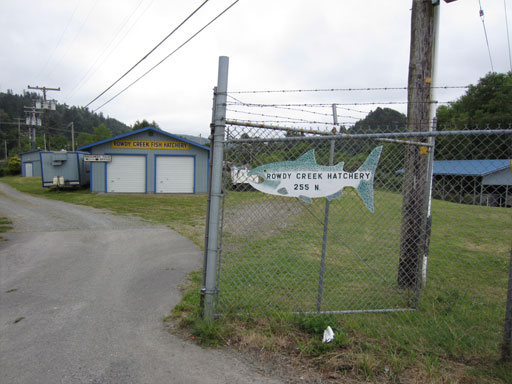 Fence prevented proper fish hugs. This will have to suffice:
The volunteer at the hatchery was an awesome dude, eager to show us his process of collecting the baby fish, gassing their water to temporarily knock them unconscious, tagging them with a tiny piece of metal, and then releasing them back into the hatchery pools. Tagging fish helps people understand their migrations and behaviors. The hatchery also helps keep up with the demand that recreational fishers place on the local watershed. I hope all the fishermen/fisherladies who like plenty of fish are donating to and volunteering at their local hatcheries. This guy was working hard!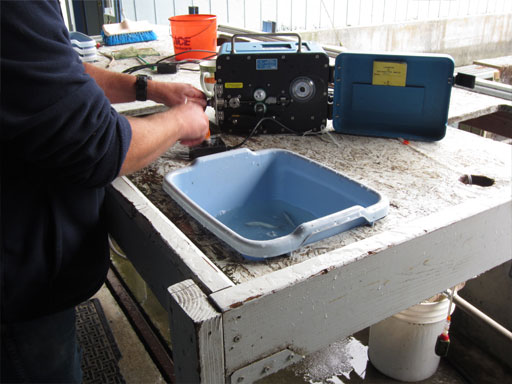 Babby fish pools!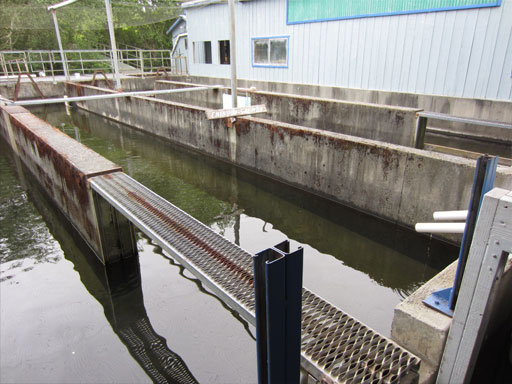 I just love fish (the live kind, not the food kind). Coming here was super exciting for me. :)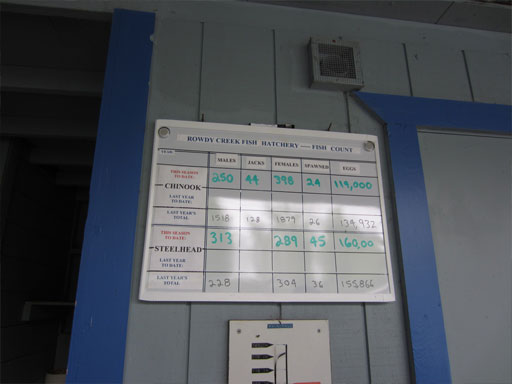 Continuing on our journey north, we stopped several times to explore Oregon's rocky beaches. I'm not much of a tropical beach person, but I looooove these beaches! Look at these gigantic rocks!
Look at me getting my feet soaked!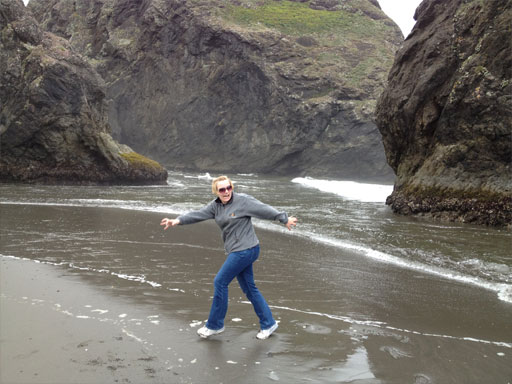 Next stop: Sea Lion Caves! We stopped here on a whim, having never heard of it before but apparently it's got a long history and it's something people raised on the West Coast go to at least once in their youth. Ignore the middling reviews on TripAdvisor, the Sea Lion Caves were awesome and if you're in the area you should totally check them out.
Plus, the scenery around the caves is amazing.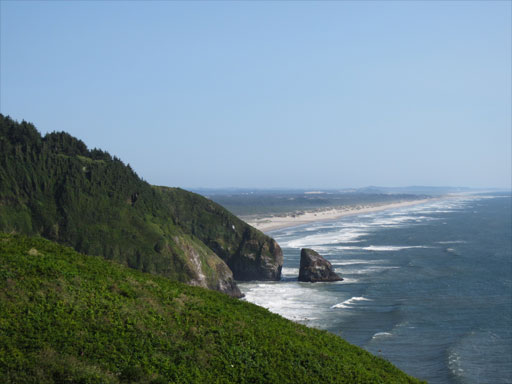 Our final stop was at the Holiday Inn Express Hotel in Newport, OR. The hotel was brand new, so new it didn't even show on GPS, but the Newport area was a disappointment. There was little to explore and most of the town's shops and restaurants were closed by the time we got there (6pm). It was hard to find somewhere to have dinner and we turned in early for lack of things to do which is odd, because we are very good at finding things to do. There wasn't even anywhere to walk!
Day 7: July 7th, 2012
Crescent City, CA to Long Beach, WA
152 miles
Best thing about driving north: it's getting colder! Oregon's coast continued to deliver fantastic lighthouses, beaches, and eyefuls of scenery.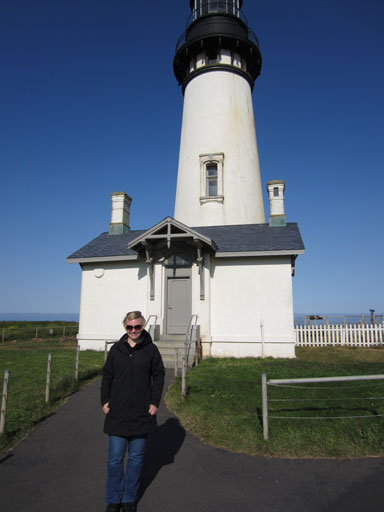 Some awesome person built a hut out of driftwood on one of the beaches we walked:
More eyefuls of scenery on an Oregon beach:
Next stop: the Tillamook Cheese Factory!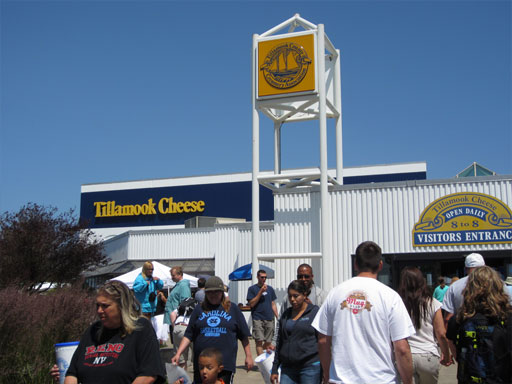 Yes, there were a billion people here, but watching the cheese get packaged and sent off was super awesome.
After eating our weight in ice cream at the factory, we soon encountered another fish hatchery! The Nehalem Fish Hatchery fish food dispensers let visitors pay a quarter for the experience of throwing fish food into massively huge fish tanks. When food starts raining down, the fish go INSANE! They jump out of the water and thrash in a giant writhing mass of fins and flippers.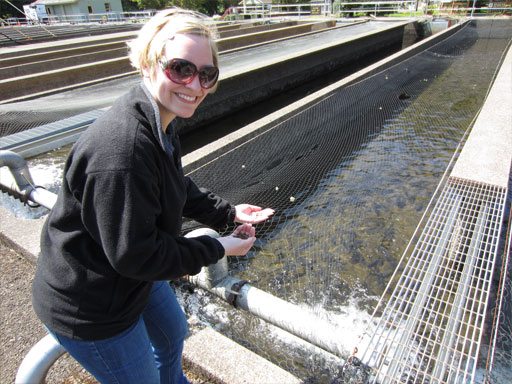 Adrift Hotel in Long Beach, WA was our final stop of the trip. Reviews seem mixed, but we adored the spartan interior and the close access Cape Disappointment State Park, which we spent the evening exploring.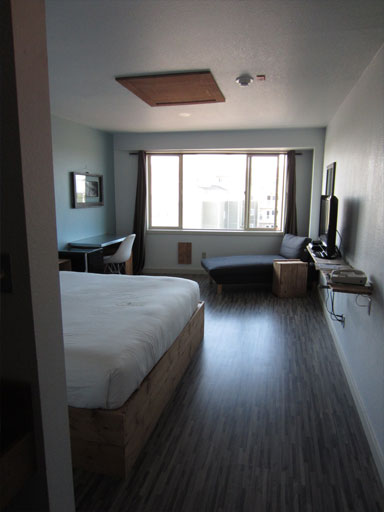 Also, there is a totally badass GRAY WHALE SKELETON ON THE BEACH NEARBY!!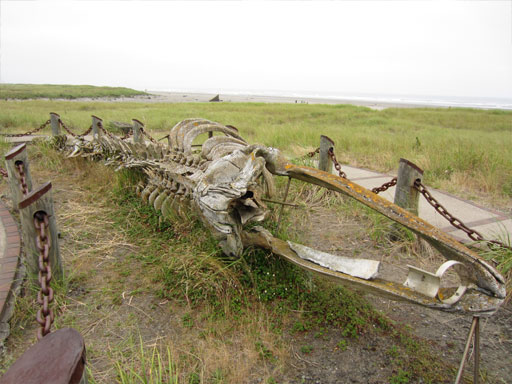 Day 7: July 8th, 2012
Long Beach, WA to Home
179 miles
We started early and banged out the rest of the drive in one long stretch. Scenery was grey and gorgeous. Coming home is a wonderful feeling.
Jim and I both grew up in families where road trips were the primary (or only) style of vacationing. We love spontaneity and savings of a driving-based adventure. While this was far from a how-low-can-you-go budget vacation (each of our nightly stays was $95-$170), we saved plenty by stocking the car with grocery store food, eating the free breakfasts at the hotels and choosing cheap or free adventures along the way. Even with a rental car, the whole trip came in WAY under the cost of last year's 10-day trip to Alaska which included flights and a 7-day cruise. And we easily had just as good a time, if not more thanks to the relative solitude and freedom of road tripping.