"I love traveling, it makes me appreciate home more" – me
(More Alaska quotes can be found here)
We are back from Alaska!  Motivated mostly by desires to escape summer heat and see more of Alaska, which we enjoyed last time we visited in 2011, we planned a quick visit to Alaska.  I know, Alaska's too big even for 2-week itineraries, but our annual vacation allowance is piddly and our budget is small.  This time, we wanted the freedom of driving so we landed in Anchorage, hopped in a rental, and took off for the interior.
Day 1 – Getting There
We went directly from Seattle to Anchorage to Denali in one day.  It's totally doable and we had a few hours left over by the time we arrived, even without starting at the butt crack of dawn.
Our plan: 
10:10am – Fly from SeaTac to Anchorage (3 hour flight), pick up rental car
Eat a reindeer sausage from an Anchorage street vendor
Drive to our Denali cabin 224 miles away (4.5 hours of driving)
The plane ride was uneventful, aside from the eyeloads of beautiful scenery flying over Canada and Alaska en route to Anchorage.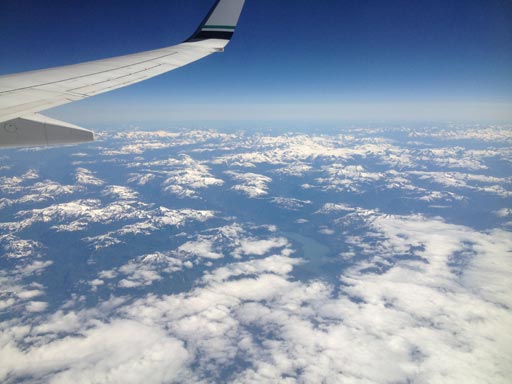 In Anchorage we first got some groceries and snacks from a Carr's and then grabbed reindeer sausages from a 4th street vendor. We ate in a nearby Home Depot parking lot because street parking is expensive and rare in Anchorage on a nice day.   Omg, yum.  Get yours with onion and pineapple sauce, it's to die for.  (PS: In case you're new here, Jim and I are obsessed with food. Especially regional food. MMMMM!)
We hit the road north around 2:30.  The 224 mile drive to our cabin was stunningly scenic, even for Alaska. Jim apparently went into beastmode before the trip, because he banged out the entire drive himself with hardly a stop.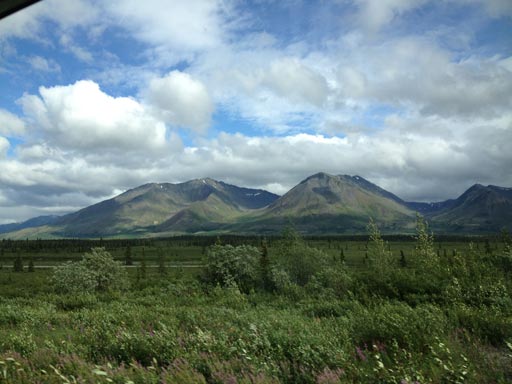 Our accommodations were one half of a creek side duplex cabin at McKinley Creekside Cabins about 12 miles south of the park entrance.
After seeing the "Glitter Gulch" area 1 mile north of the park entrance, I was very glad I stayed at McKinley Creekside Cabins instead of anything in that area, which was tacky and crowded.  Our cabin was awesome – way more modern than this suburbanite wuss was expecting.
Amenities included:
Queen size bed, super comfortable (we'd have paid more for a king, but oh well)
Microwave & mini-fridge
Wifi access
Spacious bathroom with full shower, toilet, sink
A great view of the creek just a few dozen feet from the cabins
There's also a breakfast/lunch/dinner cafe on the property (and the food was great the two times we ate there).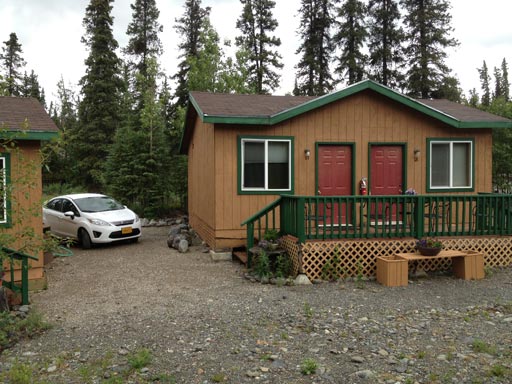 We had dinner at Panorama Pizza Pub, and oh my god was it amazing. This is the kind of pizza you dream about long after you've eaten it.  It was easily better than any pizza we've had since moving to Seattle, that's for sure.
Why yes, vacations are basically an excuse to stuff ourselves, why do you ask? 
Day 1's Good:
We drove our own vehicle to the airport and parked it for $60, much cheaper than taxiing both ways for $170 total ($85 each way)
The 10:10am flight was perfect, we had plenty of time for last minute stuff in the morning and we weren't super tired by the time we landed
We loaded up on food (apples, bananas, cereal) at a Carr's in Anchorage.  This was a genius move, as food only gets pricier the closer you get to Denali and fresh snack food basically disappears once you're outside Anchorage
The scenery between Anchorage and Denali is spectacular
Day 1's Meh: 
Street parking in Anchorage was rare and pricey. We grabbed our sausages and hopped back into our car.  We ended up eating them in a Home Depot parking lot, lol.
There aren't a lot of places to stop along the way to Denali
Our rental car was both dirty and reeking of soap, yet it came at a cost of $55 a day (which the best deal I could find in three months of watching prices fluctuate between $55 and $100).
Continue onto Day 2 to read about the two full days we spent at Denali!