Days 4 and 5 – Heading Home
One Last Look for Denali
Saturday = drive back to Anchorage day!  We're usually pretty excited to head back home, and this trip's no exception.
But before driving down to Anchorage, we first went north a bit and back to the Denali 15-mile long Park Road one last time in hopes of seeing the Denali itself, as we've still yet to see the park's namesake mountain.  We were in luck! The clouds parted and holy wow that's a huge mountain!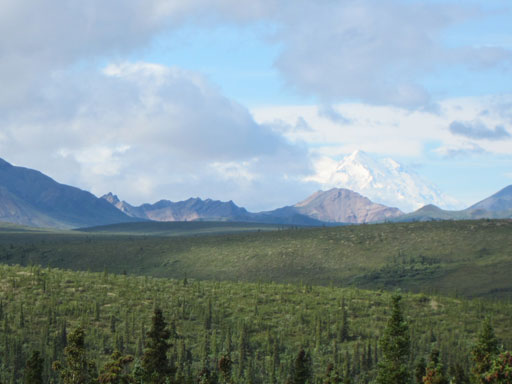 We drove to the end of the Park Road and climbed this giant heap of rocks for a better view (there's a path, don't worry :P).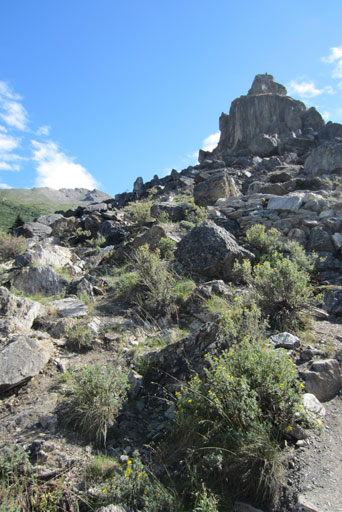 We were all like:
And Denali was all like:
It was spectacular, but clouds soon rolled in as if to say "there, you saw it, now get going on that five hour drive back to Anchorage!"
Denali Park Tidbits
On our way out of the park we stopped at one of the hiking spots.  Both of us were too chicken to actually go hiking (for numerous reasons, but mostly out of fear of bears) so we walked for ten minutes on one of the easy trails near the parking lot. We found this pile of poop on our walk, which Jim declared bear poop.  I thought it was moose poop, but without access to Google we're both pretty useless when it comes to this nature stuff.
The scenery, however, was still spectacular.
Back at the parking lot, we marveled at the reinforced bear-proof Denali bathrooms.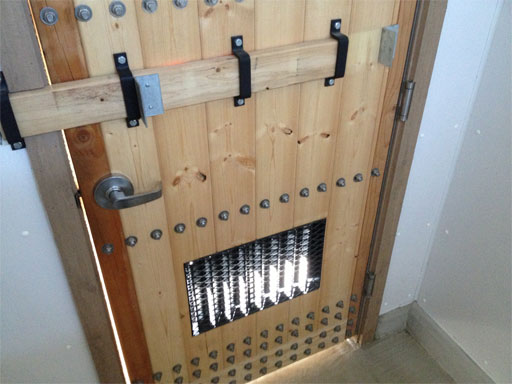 Before we left, Denali had one more treat for us.  When we returned to the parking lot, parked next to our rental was its younger sibling.  Check out the plates: GQA 556 and GQA 555.  Both are from the same Hertz fleet. What are the odds!?!
The couple driving the blue Fiesta casually left car and walked away to explore the park, not realizing the awesomeness of this coincidence.  Don't worry, I enjoyed it enough for them.
The 6-Hour Drive to Anchorage
When we arrived on Wednesday, we banged out a 3-hour flight and a 5-hour drive like it weren't no thang.  So we figured driving from Denali to Anchorage on Saturday wouldn't be so bad – after all, there was no 3-hour flight beforehand.   We were wrong: the drive back felt like eternity.  We must have been pretty worn out by this point in the trip.
But we saw some cool things along the way, such as:
We arrived in Anchorage around 6:30pm blind with hunger and desperate for comfort.
Dinner in Anchorage
We went directly to our favorite place from our last visit to Anchorage, the Glacier Brewhouse, only to find every table was booked for the next three hours.  We were about to leave when a couple in the bar seating waved us over, said we could have their table, and we just about fainted in gratitude.
Thirty minutes later, we feasted on a half roasted chicken and the best prime rib either of us has ever tasted: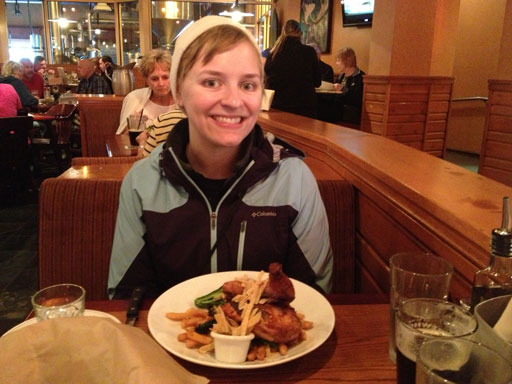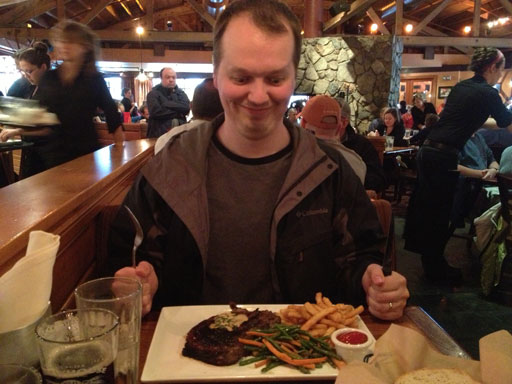 Thank you, anonymous couple, for the incredible dinner and a great end to our Denali-Anchorage drive.  Word to the wise: make reservations if you're gonna eat at the Glacier Brewhouse in Anchorage.
After our meal, we paid it forward by flagging down another disappointed couple on their way out and offering them our table.
Leaving Anchorage
Our flight was early Sunday morning, so we overnighted at the Millennium Alaskan Hotel in Anchorage, which was near the airport but absolutely terrible for the $200 we paid for the night. At least we weren't there long.
Instead, we went straight downstairs for breakfast at the attached restaurant, The Flying Machine. We immediately regretted not eating out of a dumpster for breakfast instead.  I think Alaska was telling us to go home.  Fortunately, we were just a couple hours from saying our goodbyes.
One three-hour flight later we were coming in for landing over Seattle.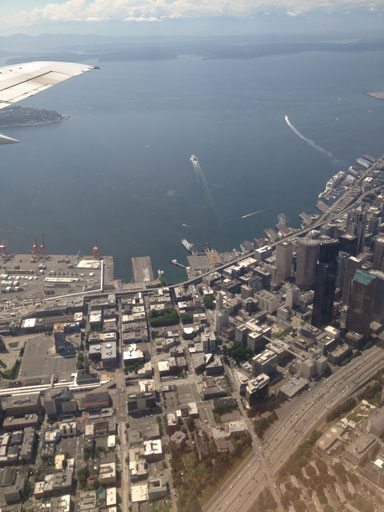 Coming home is the best feeling on earth!