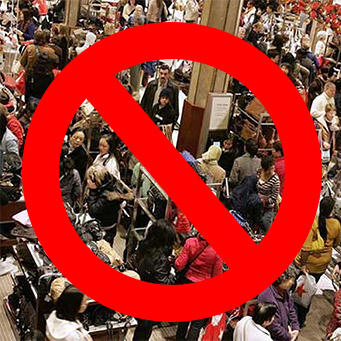 I love a deal, but I hate Black Friday. The annual shopping frenzy that encourages people behave like animals for discount microwaves and video games is consumerism at its worst. But it sure is hard to argue with saving a ton of cash.
Three years ago, we closed on our house right before Thanksgiving – the timing couldn't have been better: our refrigerator, washer, and dryer were all Black Friday deals, which saved us several hundred bucks, and many of the tools we needed were found on discount in December. We also filled out our gaming collection for the year thanks to Steam sales. :D
So what's a sane person to do? I can't stand joining the midnight mobs, but I have found ways to take advantage of holiday season sales without going crazy.
Welcome to Black Friday tips for sane people!
Plan Your Shopping Ahead of Time
If you must go out on Black Friday, don't arrive at a store without a plan. Remember, retailers want you to go into the store for one thing and come up with 15 other things.
Browse Black Friday circulars as they become available (or get leaked) on sites like blackfriday.com and theblackfriday.com. Nearly all major retailers have released theirs by mid-November.
Making an Amazon wishlist, even if you also intend to shop in person, can help you track your shopping if you're shopping for a bunch of people. I like to curate mine all year long to track what I might get when and if it ever goes on sale.
Shop Online
"Cyber Monday" has become more and more of a thing, with retailers holding back some online-only deals until the Monday following Thanksgiving.
Shopping online can net you some nice deals, especially on items in the $20-$100 range. I'm a big fan of Amazon, but you have to keep checking back to find what you need. You also need to be flexible – the deals aren't predictable, so if you've got your heart set on a very particular item, you might not want to wait for Amazon to maybe put it on sale.
Time Your Electronics Purchases
Appliances are fine and dandy but what most of us really want are toys! We here at LevelUpHouse are big electronics fans, but we're only happy when we get a deal. Here's what I've learned in some 8 years of buying electronics during the Holiday season:
Smartphones
Smartphones are expected to go on sale just before Thanksgiving.
It used to be that the only deal you could hope for on an Apple device was a free Apple Store gift card with your purchase. But times are changing: Walmart, Radio Shack, and Best Buy in particular are getting aggressive with their pricing on last year's iPhone 5 model as well as this year's iPhone 5C. The previous generation iPad is also on sale at many retailers. If you've been thinking about getting an iOS device, this is a good time to grab one.
If you're thinking about any other phone, pretty much every major carrier is offering some kind of smartphone deal along with a 2-year service plan. Research which phone you want ahead of time, and hit the cellular store with a goal on Friday and you should come out a winner.
Laptops, Computer Monitors, and Computer Accessories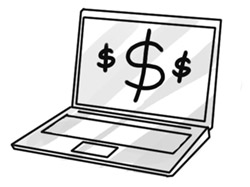 Laptops and computer accessories usually show up as "doorbusters" on Black Friday itself. I've you've been waiting all year to upgrade your monitor, this is your chance to do it at a record low price. I've personally spent a couple Black Friday mornings camped out (in the freezing cold) for the sake of a good deal on LCD monitors and video game consoles.
Dell.com has a somewhat ominous-looking Black Friday countdown showing the minutes remaining until they reveal their deals. The Big Reveal is a few days before Black Friday, so if you can still try your luck in the stores if you don't find what you're looking for online.
Televisions
Thanksgiving Day itself is the best day to snag a deal on a new HDTV. Deals continue into Black Friday. If you want a new TV but you're not ready quite yet, don't worry – Superbowl Sunday isn't far away, so TVs will go on sale again real soon in February.
Video Game Black Friday Deals

2013 is a special year: two new gaming consoles are coming out this holiday season, the XBox One and the Playstation 4. But don't expect any deals on the consoles themselves – new consoles never get discounted on their debut Black Friday.
But deals on games are a given – Thanksgiving and Black Friday are the days to shop (in person, alas) for video games. Cyber Monday doesn't get quite the same discounts, probably because retailers are using video game deals to lure people into stores where they can buy bigger, more expensive things.
We're PC gamers in this house, so we usually stock up on the Steam sales, which offer discounts on games, DLC, and game bundles. It's unusual to find a discount on brand new releases, but if you want to back fill your catalog a bit and pick up some of the games you missed out on over the last year, the prices get crazy low (like, under $10 for lots of titles).
The best part of shopping on Steam? You don't even have to freeze your ass off in the cold like we did for our Wii many years ago.
Shop the "Other" Days
Black Friday isn't the end of the discount season – it's the beginning! The weekend after Thanksgiving in particular is known for appliance deals, and the entire month of December usually gets good discounts on house tools.
The weekdays following Black Friday, December 4th in particular, have lower store traffic and better customer service, with many of the same great holiday deals.
Start Shopping Now
It used to be that the deals didn't start until Black Friday itself, but in the colossal effort to out-do each other, retailers are rolling out sales earlier and earlier.
A walk around the mall in early November shows plenty of sales already in effect. Shopping ahead of Black Friday might not guarantee you the lowest price, but it might help guarantee you leave the store with what you came for.
Dealnews.com styles itself as a "year round" Black Friday site. If nothing else, getting an early start on your shopping can save you stress and anxiety as the holidays approach.
Hit up Smaller Retailers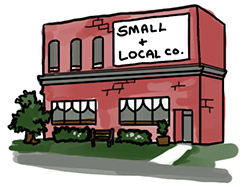 In 2010, American Express (the credit card company) started promoting "Small Business Saturday" – which is ironic because small retailers are the most likely to not accept my AmEx card.
Regardless of the origin of Small Business Saturday, doing some of your holiday shopping at a local business can help you avoid the crowds, connect you with good service, and support your local community.
Two Ways to Skip Black Friday Entirely
The easiest way to stay sane on Black Friday is to just not participate. Obviously, this article was written for folks who do want to participate, just without going crazy, but for the truly bold I give you two strategies that Jim and I have utterly fallen in love with now that our needs are taken care of:
Help Someone in Need
Here's an easy and inexpensive way to feel good this holiday season: buy a toy for a toy drive. Give $25 to a cause you believe in. Put your money somewhere where it can do good, and you'll feel good year after year.
I want to help the homeless, so I donate to Seattle Union Gospel Mission and KITH, two organizations right here in my own neighborhood giving homeless people meals, safe places to stay, and assistance in starting a new lives. It's super inspiring to think that money I'd have spent filling space under the tree is helping someone feel hopeful about their life instead. I love giving to these organizations.
Focusing on your own needs counts, too. Skip the trinkets and buy yourself or your family that practical thing you've been wishing for, whether it's a new appliance, tires for the car, or some cash in a savings account. Sure, it's not as glamorous, but it sure is practical – and you'll thank yourself come January.
Go somewhere!
Here's a tip: many tourist destinations are complete ghost towns in the weeks between Thanksgiving and Christmas (including Disney World!). Airfare is low, lodging is cheap, and you get the airport to yourself. Skip the shopping and go lay on a beach. Or ski the mountains. Whatever you do, it's probably cheaper (and more memorable) than anything you could buy on Black Friday.
PS: And whatever you do, don't shop at Walmart. Walmart is for jerks.