We're taking a break from home improvement in honor of the recent holy event: Nine Inch Nails has released a new album.
I was 14 when Nine Inch Nails first graced my eardrums.  Since I'm now almost 30, this means I've been a Nine Inch Nails fan for over half my life.  I have all the albums, saw Trent perform live from the sweaty floor of the various venues I saw him at (St. Louis LIGHTS IN THE SKY OMG), and I own enough t-shirts to dress as a NIN fan for several weeks without repeating anything.
Trent Reznor could shit in a box and I would buy it. Hard. TWICE.
So of COURSE I WAS THRILLED when Trent came out of nowhere this year to announce a new album AND a new tour, five years after announcing NIN would "Go away for a little while".  Five years is the usual amount of time between Nine Inch Nails albums, so Hesitation Marks is right on schedule!
First Impressions
My first trip through Hesitation Marks was like coming home but all the furniture's been rearranged or replaced.  It's a weird mix of familiar and new, and everything I heard drew an instant comparison to older songs.  All new albums are born into the shadow of their predecessors, after all.
But, as usual, once I got comfy in the album and began to view it as its own work independent of previous NIN, I started to really enjoy it.  No, there's no "Reptile" or "Last" in here.  It's definitely "new NIN", "old NIN' being everything made before and including 1999's The Fragile.
But LevelUpHouse is about celebrating the good stuff, so I don't want to dwell on what's not here or what Trent is or isn't doing artistically.  (YouTube commentators have that well handled anyway.)  Let's talk about what's great in Hesitation Marks!
Songs
"Eater of Dreams" I love you, please show up in concert and, someone, please remix it to be at least four times longer. :)
"Copy of A", "Find My Way", and "Satellite" were my insta-favorites.  Modern NIN through and through, these songs fit right in with just about everything Trent's made since The Fragile.  "Came Back Haunted" didn't blow me away as a single, but I'm liking it more after repeated listens.
"All Time Low" was weird and uncomfortable when I first heard it.  And then suddenly… I LOVED IT.  Listen to it outside during sunset, or on an airplane while gazing out a window.  It'll blow your mind.
"Everything" made the fanbase explode when it was released in advance of the album, but it grew on me (in a good way).  Play it LOUD, the chorus is FANTASTIC.  Almost feels like old NIN when the chorus is going.
"Various Methods of Escape" feels like a hybrid of The Fragile (right) and Year Zero, so naturally it's a winner with me.
"Running" is one of my least favorites. It gets repetitive by its mid-point, but Jim and I enjoy the multiple layers of singing Trents.  Is he running out of Trents for his chorus? :D
"I Would For You", "In Two", "While I'm Still Here" sort of blend together for me in Trent's signature "end of album slowdown", all good and listenable but sort of lacking the distinct character of the earlier songs.  "In Two" is probably my favorite of the end of album group.
Overall, in a stack rank of Nine Inch Nails albums I'd put Hesitation Marks above The Slip and With Teeth.  It's about on par with Year Zero, so if you enjoyed Year Zero you should give Hesitation Marks a listen.  If you're looking for another Broken or The Downward Spiral, sorry, this isn't it.  (If you have found another Broken or The Downward Spiral, tell me what band/album in the comments. :D)
Lyrical Analysis
But there's one more thing.  This album, it's so… not as melancholy as usual!
I'm pretty sure I've never heard the word "fun" in a Nine Inch Nails song before.  (Oops, nevermind, he says it in "Big Man With a Gun".  How could I forget one of my favorite NIN songs?!)  
While I love "Everything", this mid-album mashup of Jimmy Eat World and Metro Station is definitely new territory. I like it, and I wonder (hope!) it's a reflection of Trent genuinely enjoying his new Real Life role as husband and father.
I like charts n stuff, so to finish off this new album celebration I picked a sampling of Trent-ish words and counted their occurrences in various albums.  These charts and "analysis" are completely subjective labor of love, just the idle musings of one long-time fan.
Belief/Trust words
God, lies, promises – I always liked the undertones of betrayal and broken promises in Trent's early works.  Trent wrote the darkest, saddest songs I have in my collection.  When I feel like shit, the only artist who goes dark enough to truly wallow in it with me is Nine Inch Nails.
Lies/Lying is one of my favorite NIN motifs.  References to lies peaked with The Downward Spiral, fell for nearly a decade and then started making a comeback in Hesitation Marks.
God had a strong showing in NIN's first major album release then cratered circa With Teeth, only to return in the very next release, Year Zero.  But God poofed again in Hesitation Marks with just 1 mention.
God is dead, indeed, but does anyone care? :D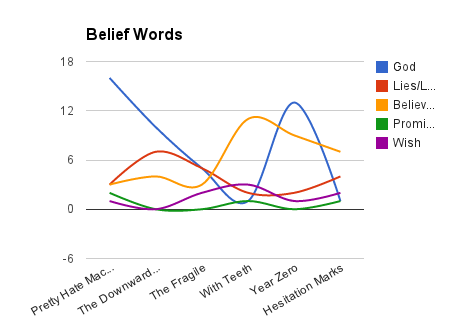 Introspective words
References to "me" peaked during The Downward Spiral before crashing down during the With Teeth and Year Zero eras, but self-referencing was on the up again in Hesitation Marks.  "Inside" correlates somewhat with uses of "I'm / "I am".
Side note: I've always suspected, but never confirmed, that Trent begins more songs with "I" than any other word.
This data suggests that The Downward Spiral, With Teeth, and Hesitation Marks are more personal, or at least use the first person perspective more liberally, in comparison to other Nine Inch Nails works.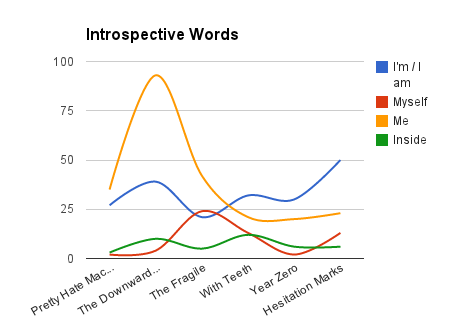 Aggressive words
No surprises here, aggression peaked in The Downward Spiral and quickly petered out.  I consider With Teeth an aggressive-sounding album, but the aggression is accomplished more through sound and lyrical imagery than straight-up word choice.
Sidenote: Haha, I never before noticed the word "hate" isn't used in any of Pretty Hate Machine's songs.  Come to think of it, "pretty" and "machine" aren't, either.
O__O
Happy/Loving/Kind words
While Hesitation Marks sure sounds happier than previous works, it's not exactly fun in the sun.  Hope bottoms out and all the love in the world went to With Teeth.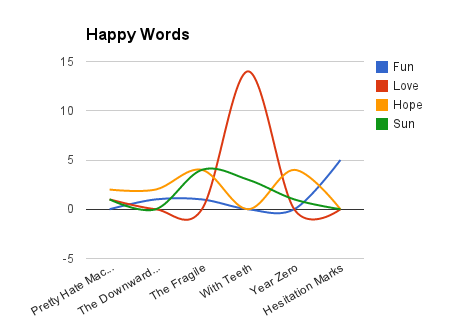 Pigs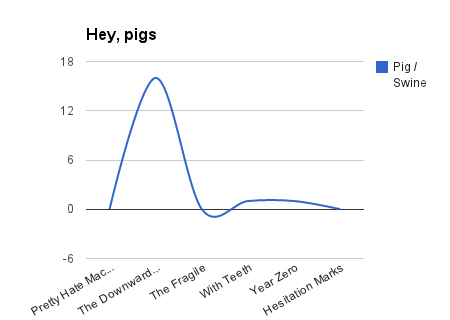 Anyway – THANK YOU, TRENT :)