The MyHome Warehouse in Totem Lake (Washington state) is definitely our new favorite source of house loot.  The prices are at the upper end of what we consider reasonable but the goods appear to be high quality.  This jives with our new stuff-buying philosophy.
In the past, we'd snag cheap items from stores like Wal Mart and Target which were okay – and this applies to everything from clothing to home goods to shoes – but now we're ready to save our pennies for high quality items we *LOVE*.  And we were DEFINITELY ready to start covering some of our bare walls with pretty art.
And oh boy, did we find some goodies!!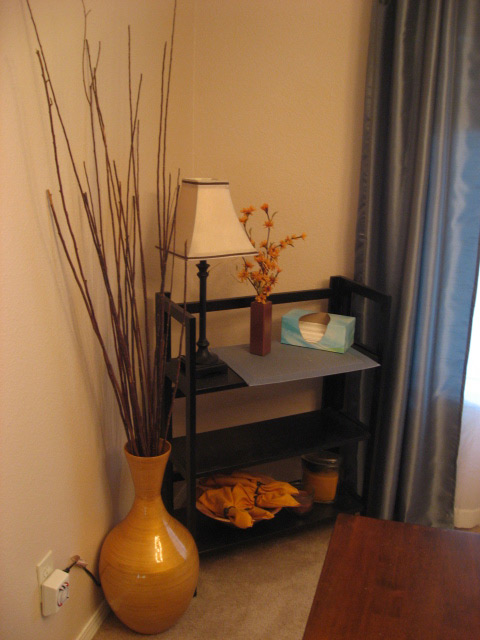 The "Vase With Sticks In It" trend won me over at last!  The golden hue vase now cheering up the black shelf in our dining room was an amazing clearance find at MyHome.   The sticks themselves are from IKEA and this barely made a dent in the bundle!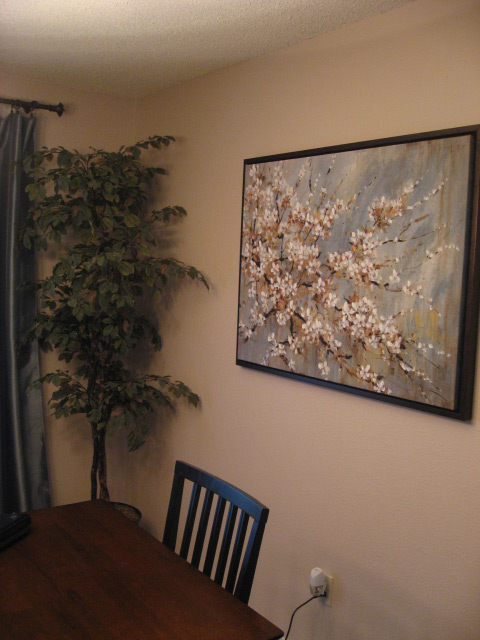 Over on the right side of the dining room we have our second indoor tree!  I love the way the vase and the tree work together to soften up what was originally a very hard, geometric-looking room.
I photographed these babies at MyHome, intending to "think about them" and come back later if I decided I liked them.   Thinking about them lasted about the time it took for us to walk to the register.  I ran back and grabbed them!   And after putting them into the family room, I can't believe we almost left 'em there!!
One of them is helping pretty-up the corner of the family room that currently features our very chic drying rack:
I rested the other on top of the book shelf, where it now fills what used to be a very empty spot of wall: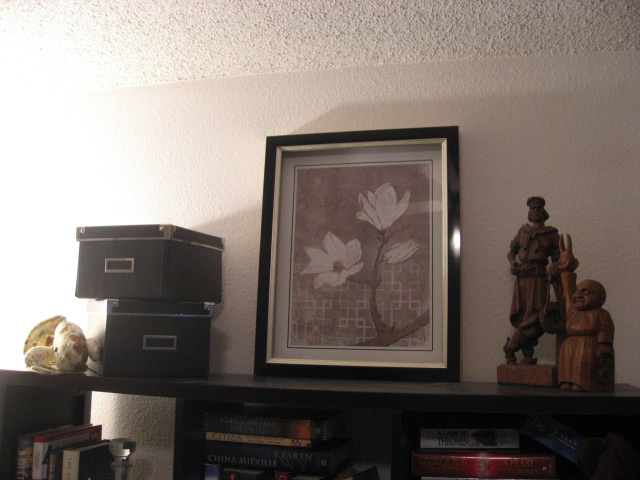 Surely that's enough decorating by now?!  Nope.  Still decorating.  MyHome seriously has more art than I've ever seen in one place before.   We took three trips to MyHome before the weekend was over – the employees must think we're nuts!
Jim and I both instantly fell in love with this beauty, which now graces our stairway: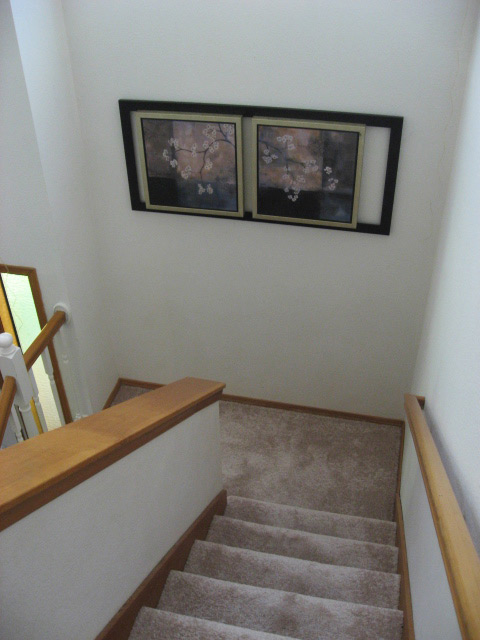 Aaaand this one too: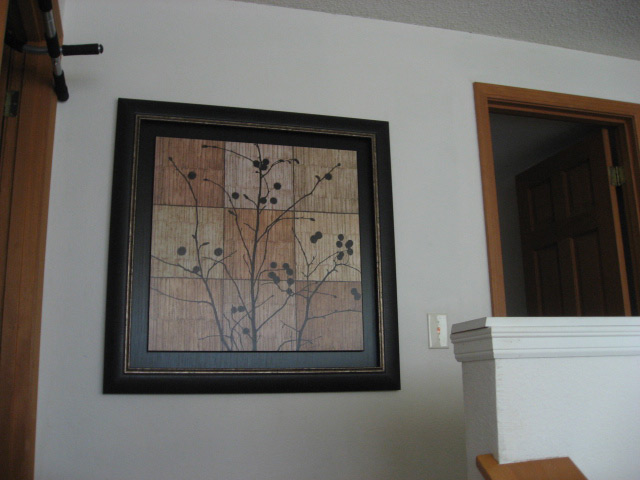 (Yes, that's a pull-up bar mounted on the door to our computer room.  It's impossible to resist the urge to do a pull up every other time we walk under it!)
Remember that episode of The Simpsons where, after he's been kicked out of the All You Can Eat fish buffet for eating all the fish, Homer goes fishing?  That was us, except after we'd gotten everything we'd liked at MyHome we went to Fred Meyer, which has its own fairly robust home decoration department.  And there it was.
LOVE IT!   Especially love that it was 50% off!  But after getting it home I discovered a hitch in this grand plan:  it was meant to hang horizontally!  Not to be discouraged, I busted out my drill for some Arts and Crafts Time at the Level Up household!!
I was a little surprised at how easy it was to remove the hardware.  With a little help from my friends Yardstick and Level, I moved the hooks like so: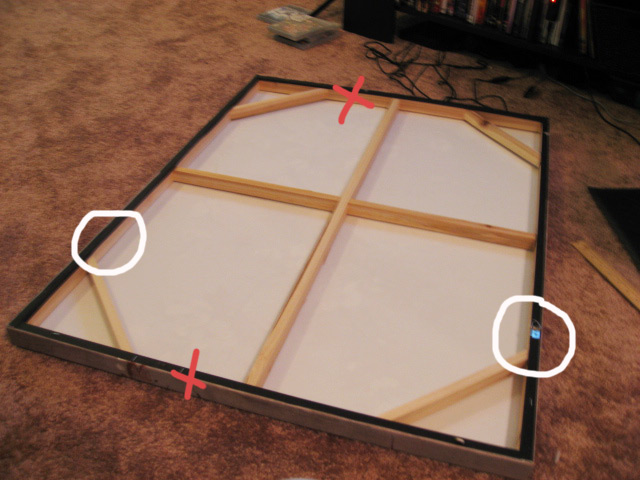 Ta-dah!  Now it hangs vertically and our entryway's days of being a boring white wall are OVER!  In fact, the whole house just feels so much more complete with some art and decorations.
It was a little weird to buy things that serve no purpose other than beautification (especially when we still lack basics like end tables for our couch and furniture for several rooms), but it was totally worth it.  Never underestimate the power of art and decorations!