I don't think I've written an update on our budget DIY kitchen remodel in a while.  Here's what we've been up to these last couple months.
February: I started refinishing the cabinets and tearing out cabinets to make room for the range hood
March: Purchased and installed range hood
April: Spent this month tearing up the many floor layers
May: Popcorn ceiling removed, countertop installed, laminate flooring installed
Unfortunately, I have a crappy tradition of getting sick at the start of summer.  Being sick and recovering knocked the motivation out of me for about five weeks.  During this time I didn't do jack on the house, but now we're back at it.
July: Installed the cabinet pulls and reattached most of the doors to the frames.
Here's a snapshot I took today: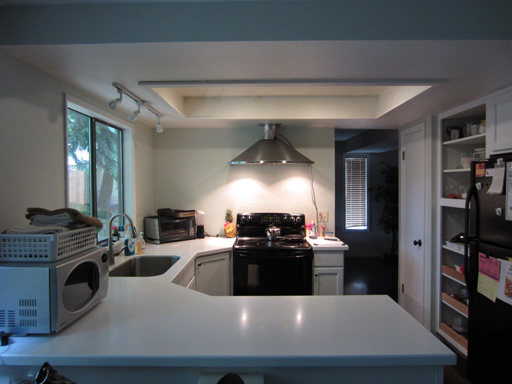 To Do: 
Paint the interior of the ceiling lighting recess (Dad and Jim installed two LED can lights into here, they're awesome)
Hide the cord from the range hood
Hide the range hood's duct
Install wall shelving to the left of the range hood
Tile a backsplash around the kitchen
By spreading the work out over a long period of time we're preserving our sanity (kitchen has experienced nearly 100% uptime through all this work) and putting months between major expenses.  I don't know how people spend 50-100 grand on a kitchen. Those fortunate people live in a different world than I do.