We've scheduled a contractor to come out on March 15th and give us an estimate for all of the following:
new countertops
new sink + new faucet
laminate flooring in dining room, kitchen, drop zone, and hallway
lighting changes – just something that isn't three ugly fluorescent bulbs
That means we have until March 14th to procrastinate on choosing colors need to make a decision on this counter top!
Our new counter top must-haves:
Undermount sink!
No bizarre cleaning regimens (I don't want to seal / buff / oil anything)
Reasonably durable, though neither of us is particularly destructive nor do we intend to chop food or put hot pans on the counter
Must be cleanable with normal cleaning solutions, like Lysol kitchen spray
Affordability – our budget for this kitchen update is around $5000
Stain resistant – we can be messy
This kitchen's a work zone. We both cook twice daily.  I don't know where some of these counter top manufacturers get off making counter tops that aren't rugged or stain proof but I suppose if you don't actually use the counter top for cooking, it's fine if it's made of paper mache.
Corian solid surface counter top quickly became a front-runner.  Young House Love first drew my attention by choosing it for their kitchen.   (I swear I am not stalking them.  Okay, maybe a little.)
We eventually decided on Corian for all of the following reasons:
Non-porous (stain resistant!) and solid all the way through, so if terrible things happen they can be sanded/buffed out
Highly rated by Consumer Reports
Works with undermount sink, wooo
I just like the feel of Corian.  As in, I REEEEEALLY like the FEEEEEEL of it.  It's so soft and smooth.   (Actually, forget I said that, that was creepy.)
The next challenge was figuring out what color to go with.  I hate agonizing over colors, I really do, but with the counter top making up about half our kitchen update budget, I couldn't afford to just choose on whim.
Here are our samples, chillin' on the pantry's painted shelves.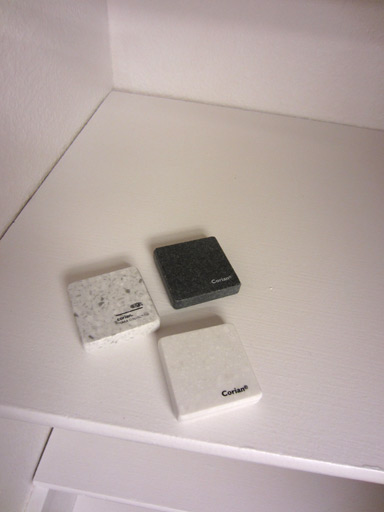 There's a slight "warm" tone to the less-speckled white Corian sample which clashes just a tad with the cabinet paint color.  (But seriously, that observation can safely be filed under "shit only Mandi would notice".)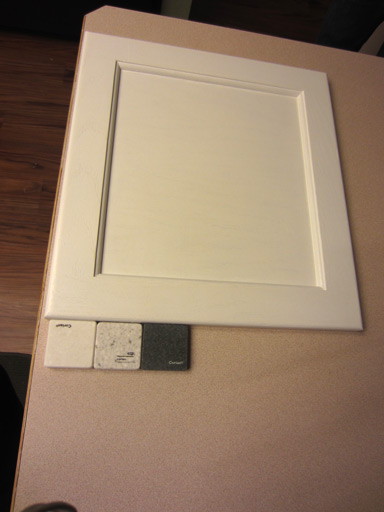 Ehh?  I feel like no matter which one I pick, it's going to be WAY better than the aging off-pink laminate with scuffed up wood border that we have now.  I think the speckly grey/white one is my favorite.  The 'Pot had a sample similar to it with tiny black flecks, but it looked way too much like Oreo crumbs in milk.  Not that I don't love Oreos or milk or the combination thereof, I just worry about the world's Oreo supply should I crave Oreos every time I go through my kitchen.  Ultimately, we chose a bright speckled white (and it was perfect).
When we went to make the purchase at Home Depot, we discovered Samsung had a promotion on their version of Corian that brought the price of a Samsung Staron counter top several hundred under the cost of the same counter top in Corian.  There we were, presented with another option we hadn't even considered after hours of ruling out other choices.  A quick look at online reviews revealed Staron is just as well reviewed as Corian and chemically quite similar, so we said what the hell and went with it.
Our gorgeous Staron counter top was installed a few weeks later!