I wrote about my Joby GorillaPod tripod last week in my post "5 Best Tech Travel Accessories" but honestly, this flexible travel-friendly tripod is so awesome it deserves its own review!
A flexible tripod? Whut?!
I only discovered it because I was trying to find a tripod compact enough to take into Walt Disney World, and now I'm kicking myself for not getting one sooner!
I spent 10 days twisting, posing, straightening, curling, and oh yeah – taking photos! – with my new Joby GorillaPod on a recent trip to Walt Disney World.  I'm not easy to impress, usually accessories in the sub-$40 category are a disappointment, but I am actually really impressed!
The Joby GorillaPod tripod might be perfect for you if…
you take photos with a point-and-shoot or a light-weight DSLR
you want to get everyone in the shot without setting up or lugging around a tripod
you want to take photos at dusk or nighttime and need the camera to stay steady
you want to be in your own photos
you want (or need) to travel light
you like to take video – a small tripod is handy for stabilizing your camera!
JOBY is a manufacturer of many cool camera accessories.  I wasn't paid or perked to write this, I just think the tripod is awesome!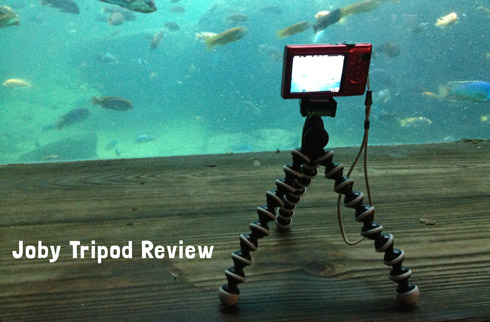 Joby GorillaPod Tripod Review
Durability
I usually expect <$40 things to be rather flimsy, however this tripod has now survived four flights in my carry-on bag, a week in Disney World, a few craft photo shoots, and a good deal of idle bending and playing with it just for fun.  I bent and twisted this thing every day. I even took it on roller coasters.  It's still in one piece!
The camera clip-on mechanism feels strong, and the camera sits tightly on the clip's pad, never becoming loose or falling out of the tripod on its own.
Each of its legs is made up of a series of ball-and-socket plastic links.  Each "ball" goes into a "socket" to make a stiff chain with rubber feet at the ends, and the rubber rings help with gripping.
It feels pretty rugged to me, especially for something that's mostly plastic.
Portability
The best tripod is the one you have with you.
Full-size tripods don't fly well, are a pain to carry all day, and are flat-out unwelcome or unsafe in many places, but the Joby tripod is small enough to go pretty much anywhere.  (Well, I wouldn't take it to a mosh pit…)
I bought the Joby tripod specifically because I'd be able to bring it into Walt Disney World's theme parks.  Full-size tripods get rejected at the entrance gate, but I wanted to actually get some decent photos in the parks and this tripod totally made that possible (see my photo examples further down).
It's lightweight enough to carry all day in a cinch sack on my back, and I also spent a good deal of time just carrying it around in my hand as I looked for good shots.
Where to Use a Joby Tripod
Everywhere!  Once you start looking for places to put this thing, you'll see the world in a new way.
"Can the Joby attach to that?" 
I found no shortage of objects to stand or wrap the Joby tripod on:
metal-top garbage cans
wrap around sign posts
car roof / hood
fire hydrants
railings
half-height walls
benches
You can even angle the legs and use it as a "stick" for your camera for taking selfies at a bit further than arm's length.
Additional Features
But wait, there's more!
Bubble level helps you know if your shot is straight
Easy-to-eject camera – the camera screws into an eject-able plate, so it comes off quickly
Tilt camera 90 degrees for vertical shots.
Joby sells the quick release clip separately, too, so you can have an extra or replace a lost one.
My Joby Photos
My Joby tripod revolutionized my vacation photos.  This section talks about photos I couldn't have taken without this thing: dusk photos, night photos, group photos, and stable video.
Historically, my photos from a trip are iPhone selfies taken at daytime and scenery shots.  Anything from dusk is a grainy mess and my photos are nothing to get excited about.  I'm not really a "photography enthusiast" (but if a DSLR with nice lenses showed up at my doorstep I would not be sad).  I'm sure some of these duh, it's-this-simple revelations are old-hat to more experienced photographers, but if you showed me these photos 6 months ago I'd have said, "There's no way I took that, and there's no way I did it with such cheap equipment".
Dusk Shots
Ahh, dusk.  That magical time of day when cameras need to be stabilized with a longer shutter time to take a halfway decent shot.
Compare these two photos –
Inexpensive point and shoot camera + small tripod = Oh, my. Wow. Dang. 
Nighttime Shots
To get a decent nighttime shot, your camera has to be able to hold completely still for a few seconds.  Many point and shoots can do this, but without a tripod it's a lost cause.
Disney's Magic Kingdom has a cool castle covered in glowing "icicles" in December, but there's practically nowhere to set a camera down. I wrapped the Joby's legs around a railing to get this shot.
This next shot demonstrates how the camera can be tilted 90 degrees to the left (or right) on the Joby tripod for vertical photos.
Group Photos
Here's another luxury we've never had before getting this Joby tripod: vacation photos of both of us! Together! Like we know each other and stuff.
The tripod opened up all kinds of possibilities with timer-delayed shots:
Videos
Just because I could, I took a 45-second video of the giant fish aquarium in Disney's Animal Kingdom. Here's the setup: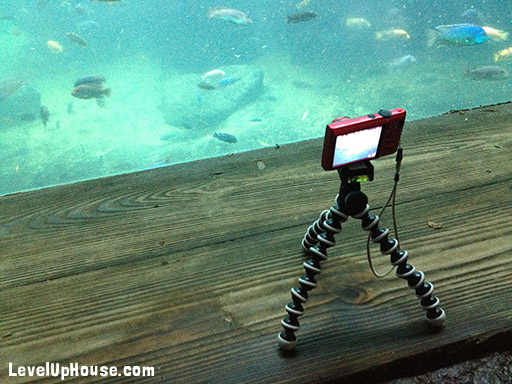 Here's the video – silky smooth.
Choosing a Joby GorillaPod Model
While my review is specific to the Joby GorillaPod Hybrid Grey (follow Amazon link to see the exact model), there are more Joby models to pick from.  The key difference between the models is the amount of weight that can be supported without sagging, though there's also a neat-o magnetic version that only holds lightweight cameras.
HOW LARGE IS YOUR CAMERA?
Joby GorillaPod Original: up to 11 ounces (small point and shoot cameras)
Joby GorillaPod Hybrid: up to 2.2 lbs (smaller DSLRs, camcorders)
Joby GorillaPod SLR-Zoom: up to 6.6 lbs ("Pro-sumer" SLR cameras with zoom lenses, heavier camcorders)
Joby GorillaPod Focus: up to 11 lbs (SLR cameras with heavy lenses, bigger camcorders)
If you're using a point and shoot camera the Original or the Hybrid are both sufficient.  I went "up" a strength because I might upgrade my camera someday, and because I liked the reassurance of having more strength than I really needed.
Note to readers: I'm not affiliated with Joby, I just think their product is super awesome.  Some links are Amazon Affiliate links – a small % of your purchase (if you make one) helps support this site.  As always, I encourage you to shop around and price compare to be sure you get the best deal!