We finally did it: we added a second car to our family! Welcome, Subie! It's a 2013 Subaru Forester and we SUPER LOOOOOOVE IT!!!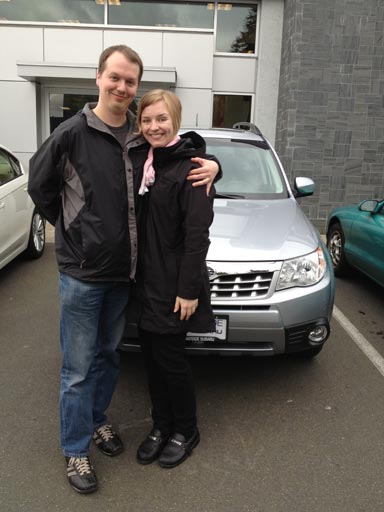 Ever since Jim's '99 Ford Escort croaked mid-WA-move, we've been sharing my 2002 Ford Taurus.
We did this for four and a half years and it went pretty well, but that was because we worked at the same office and that office was just four miles from home. After buying the house and after Jim accepted a job 10 miles from home in a different direction than the office where I still worked, we started to feel the need for a second car. (Also: Bah at America's stubborn reliance on personal vehicles!)
Our Next Car Needs
If we were going to add a car to our fleet, we wanted all of the following:
All wheel drive for our neighborhood's hilly terrain in the winter. Getting trapped on our hill in winter snowstorms sucks… and I don't even want to think about what being trapped at the bottom might be like.
Hatchback for upgraded hauling capacity. The bigger the better.
A second car for times when we need to be in two places at once
A newer car, quite simply, because our beloved Taurus is now 11 years/85k miles old
We were pretty sure we wanted a Subaru, after a decade+ of admiring other Subies on the roads. We also needed a car that Jim (6'3") and I (5'8") both fit comfortably into, and a good number of hatchbacks failed at meeting that basic requirement. We liked Subaru for its AWD, general driving experience of their vehicles, brand reputation, vehicle comfort, and dealership's presence in our neighborhood. We also figured that since every other car here in the PNW is a Subaru, it'd be hard to go wrong.
Test Driving & Lot Shopping
Over the course of six months (seriously, we are that slow!) we visited the dealership five times to test drive and browse inventory. We're definitely reluctant spenders, so purchasing a new vehicle, even one we felt the need for, was something we wanted to consider over a long period of time. (We also both went into this expecting to buy a pre-owned vehicle, but used Subarus seem to go for as much as new ones.)
I have to give a shoutout to the guys at Eastside Subaru here in Kirkland, WA.  Not only did they put up with us dropping by the lot many (many) times to sit in cars, look at cars, and test drive cars, they did it with grace and friendliness.  No hard sells.  No nagging.  No asshole jokes like "when are you guys going to quit teasing us and buy a car already?!".
This is why we kept coming back and this is why we bought Forester car here.  (And this is why we never went back to the Honda dealer.)
Test Driving the Forester
In January, a friend offered to take us along with her on a Saturday ski outing. We rode in her 2012 Forester and absolutely loved it. She probably thought we were nuts gushing about her car for an hour.
Then, a few weeks later, Subaru announced a 0% financing event. We took this as a sign and headed on over to the dealership to test drive a Forester.  We loved the Forester.
It met all our criteria, and the lot had two cars with all our desired features: back up camera, cloth interior in the dark color, tinted back windows, all weather package, silver exterior.
Outback vs. Forester
We've loved the Outback for years. I was certain that we'd bring home an Outback when the day came. We even referred to it, long before we even got serious about a second car. "When we get an Outback…"
We ruled out the Impreza as being too small for us, but we were wrong to overlook the Forester.
We had perceived the Forester to be larger than the Outback (it's not, it's actually narrower and shorter).
We has also read that the ride isn't as nice as the Outback's (we can't tell the difference).
Debating whether to get an Outback or a Forester was a main topic of discussion for a long time.  The two cars are pretty interchangeable, but this is what made is choose a Forester:
The Forester is narrower and shorter, which made it fit better in our garage 

The Forester is a couple thousand dollars less
The Forester feels perkier, more "upright", and a bit more nimble (to us – your mileage may vary)
I was going to be craving major Bloomin' Onions if we had an Outback in the garage (as it happens, the Forester's first trip ever was that night to Outback Steakhouse)
Purchasing
The 0% financing sealed the deal.  We went into car buying with no intention of leasing (we intended to buy it outright), but at 0% you'd be crazy to spend all $30k right now instead of slowly, over time, letting your money earn interest in an investment.
We did, however, use a chunk of the money we'd been saving for years towards a new car as a down payment to lower the monthly payment.  I hate monthly payments, even when they're good deals like this one.  We drove our new Subaru off the lot an hour later.
The car has been nothing short of fantastic, unlocking all sorts of new capabilities like hauling large purchases and letting us drive places we couldn't before. I feel good about it not just because we like the car so much, but because we researched it exhaustively and saved for years in preparation for it.
So, in short, yay!