Dear Toro,
I wasn't going to think twice about you.  I was going to simply never buy a Toro lawn mower again and forget about this whole episode.
But then you asked me directly for my opinion via your Toro email survey.  You even said "We'd Love to Hear What You Think!" .
Awesome, I'd love to tell you!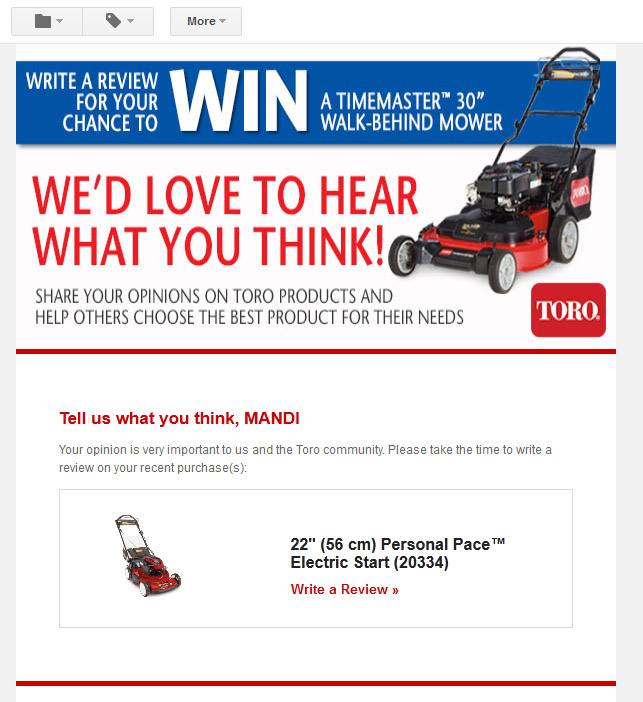 You see, I also care about product.  I'm obsessed with user experience – that's why I work as an interaction designer.  I love getting real user feedback on my software.
So, I thought you'd like some honest and accurate feedback on your product.  I filled out your survey and patted myself on the back for doing my good deed.
Then you (Toro) responded: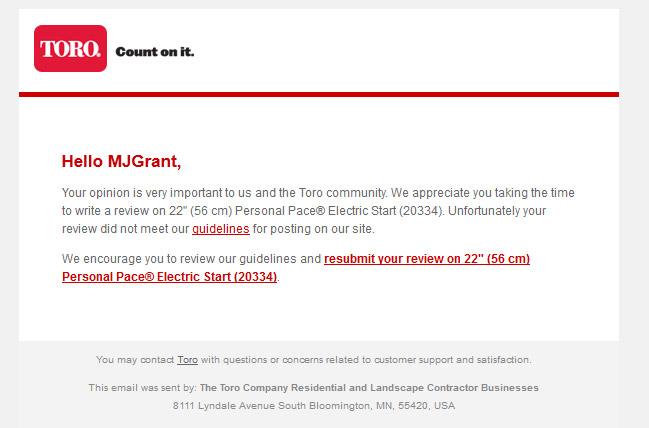 My review absolutely followed your guidelines!
No obscenities were used, no contact info, no advertising, but oh, what's this?  I can't be critical of the Toro product I bought?
Well, darn.

Toro doesn't want to hear negative feedback about their lawn mowers.  Clearly, Toro does not care about product feedback and does not want potential customers to know about flaws in their lawn mower products.  But that's okay, I can post my review here, where it is the single largest driver of traffic to this blog.
My Toro Personal Pace Electric Start 20334 is a

lemon

.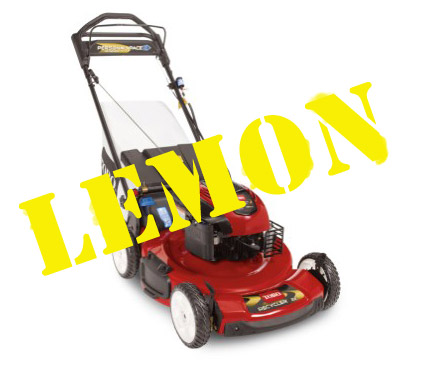 My Toro lawnmower, model 20344 with Personal Pace and Electric Start, purchased April 2010 from Home Depot in Bothell WA, has had a very short and disabled life.
At the time of its last use, it was 18 months old.  My lawn is modestly sized and quick to mow.  It has mowed my lawn less than 20 times.
In those 18 months:
– Toro issued a recall on the Personal Pace system
– My Toro's Personal Pace system broke, making the mower difficult to push
– Toro doesn't do house calls, so I had to disassemble this and stuff it into my sedan to get it to a repair shop.   The cause was determined to be a problem with Personal Pace… but not a problem relating to the recall.  AHAHA that's how they getcha, we paid full price for that repair. $80 and 5 weeks later, we had our mower back.  Hooray?
– Electric start just stopped working.  The only way to start this mower now is to yank the cord repeatedly, which I can do… but that's like asking: if you can push your car, why drive it?  Why pay more for a feature that doesn't work?
Am I alone in thinking this mower is junk?
No.
Amazon reviewers have rated it 2 stars out of 5.
This blogger has had as much trouble with their Toro mower as I have with mine, if not more.
Plenty of bad reviews over on Home Depot, too.
So why did I get suckered into owning this mower?
I didn't, my Dad did.  He bought it for me as a gift, without researching it, out of trust in Home Depot and the Toro brand.
:(