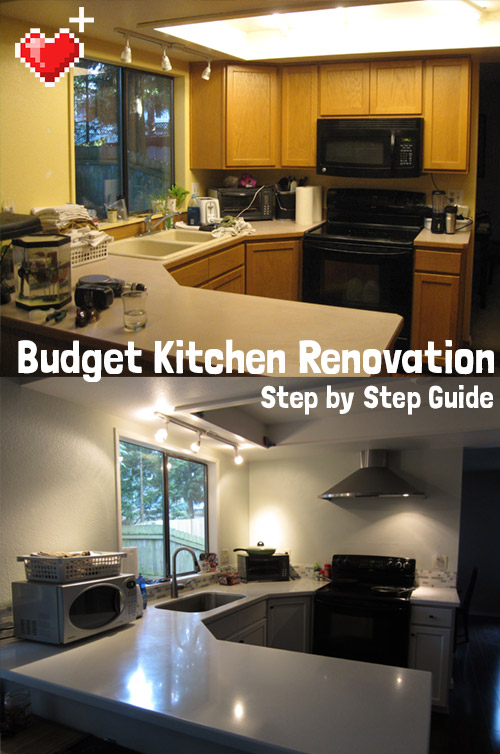 Welcome to our largest project to date: a budget-friendly, semi-DIY kitchen renovation.
Why "semi-DIY"? Well, we won't make or install the countertop ourselves, and we're going to let the pros install the floor, but we'll handle the demolition, cabinet refinishing, cabinet knobs, tiled backsplash, all patching and painting. We're somewhere between "hand it all off to a contractor" and "cast our own countertop out of concrete". If you can swing a hammer and know your way around Home Depot, you're as skilled as we were when we started this project!
To give you a sense of time, most of this project was completed over the course of 2 months (and we both work full time, so we did most of this in our evenings and weekends).
If you're reading this in 2014, good news: I've recently updated these articles to tell you how our renovated kitchen has held up over the past 2 years!
Budget DIY Kitchen Remodel To-Do List
Tear out cabinets – Completed 2/2012!
Strip varnish off cabinet doors – Completed 2/2012!
Sand cabinet doors – Completed 2/2012!
Prime cabinet doors – Completed 2/2012!
Final coat of paint on cabinet doors – Completed 2/2012!
Paint the pantry door – Completed 2/2012!
Install a powerful range hood – Completed 3/2012!
Tear out mix of vinyl and hardwood flooring – Completed 3/2012!
Laminate flooring professionally installed – Completed 4/2012!
Remove popcorn ceiling – Completed 4/2012!
Replace countertop, sink, and faucet – Completed 4/2012!
Update lighting in the ceiling recess – Completed 1/2013! (Yes, we took an 8-month break from the kitchen project)
Add pull knobs to kitchen cabinets and drawers – Completed 1/2013!
Patch the ceiling hole adjacent to range hood duct – Completed 1/2013!
Tile a new 6″ backsplash – Completed 4/2013! 
Kitchen remodel total cost:
Countertop, sink, faucet – About $2600
Range hood & installation – $1000
Electrical fixes – $200
Tiled backsplash – About $350
Cabinet refinishing supplies – $150
Ceiling lights, patching – About $50
Popcorn ceiling removal – About $300 for kitchen's part of it, but we had popcorn removed in several rooms at once
Laminate Flooring – About $900 for the kitchen's part, but we did the whole downstairs
All told, we spent about $6,000 on this kitchen remodel. Some things, like the flooring and popcorn ceiling removal, were actually done to many rooms (not just the kitchen).
What to prioritize in a kitchen remodel?
Make a list of what really irritates you in your kitchen. Maybe everything irritates you, but if you can pick just 3 or 4 things it'll help you focus your budget.
In my kitchen, those things were:
The too-small 2-bowl sink. I went with a gigantic stainless steel undermount sink.
Overwhelming "orange and yellow" color palette
Bare fluorescent bulbs on the ceiling  – Total eyesore
Weak ventilation – I really wanted a rangehood.
When in doubt, prioritize usability. Make your kitchen enjoyable to use with a big sink and flexible faucet. Also, your choice of materials matters a lot – a few $ difference per square foot for a thing like flooring or a countertop doesn't sound like much until you look at the full price. We were constantly trying to strike a balance between quality and savings.
Things I wanted but didn't get:
A better layout – it was just too expensive to gut the whole kitchen
Remove the drop ceiling – too expensive for another 8″ of ceiling
New range/oven – Maybe later, the one I have now works fine, even if it's worn out and not as stylish as a new one
We also didn't replace any appliances. So many kitchen remodels involve chucking an entire set of perfectly good appliances just to get more modern features or a stainless steel finish. If your appliances are like ours and they work fine, consider replacing them when they break, not when they're perfectly fine, and you'll find a kitchen remodel much more affordable.
Can you DIY your kitchen renovation?
Renovating your own kitchen is hell. Everybody loves "before and after", but not many people like to show off the ugly in-between. A DIY renovation of this scope is not for the weak. But I'm guessing if you're reading this blog, you're not a pansy who outsources everything short of dressing yourself in the morning to someone else. If you love rolling up your sleeves and saving thousands of dollars, you might have what it takes!
But here's some fair warning. Our kitchen – no, most of our downstairs floor – looked like this for over 2 months. 
For various stretches of time, we lived with holes in the wall, torn up floor (for a month!), and tools on every horizontal surface. 
Oh, and at least a few things won't go as you planned. Your floor will be harder to remove than you'd thought, the electrical won't be set up the way you need it to be, an installer will get delayed. Be ready for some surprises! I warn you, do not undertake your own DIY kitchen renovation project unless you know you work well with your partner and possess an almost insanely badass work ethic. Tough work lies ahead. :)
Let's get started!
Okay then! On that happy note, let's get going!!!
It's time to UPDATE THIS KITCHEN!!  YEAH LET'S DO IT, RAWWWRRR!!!! AND LET'S DO IT ON A TINY BUDGET!!! 
Will I ruin my cabinets?  Will I glue my hand to the counter? Follow along with our budget kitchen renovation and find out! Next stop, cabinet tear-out!